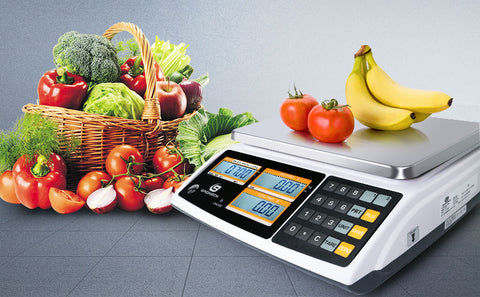 If you're in the retail business, and you deal in daily consumables, such as foods, meats, fruits, and the likes, you most likely depend a lot on scales for your business. In fact, in some businesses, such as meat retail stores and grains, where products are sold by measurement, it is required by law to use an approved weighing scale, otherwise known as NTEP-approved scales. Non-NTEP scales, on the other hand, are best for non-sale-related weighing, such as food preparation/repackaging.
Retail scale regulation varies from one region to another, and businesses are mandated to use the scales to ensure that customers truly get the value they are paying for. Typically retailers that are caught using a non-NTEP certified scale may be penalized by fines, seizure of the illegal scale, or shutdown of their shop. This is why it is essential you know how to get the right scale for your business. In this article, you'll learn how to choose the right scale for your business and where to look when shopping for retail scales.
Digital Scales Use Case
Before we delve into the points you need to consider when shopping for scales, let's look at the application of scales in retail settings. Knowing what you need the scales for in your business will ultimately inform your choice of scale when shopping for one.
You must know that retail scales are different from other scales. Digital retail scales are special weighing scales that calculate the price based on the weight of an item. They can be NTEP or non-NTEP. These special scales have an in-built price computing software that automatically calculates and displays the cost of an item placed on the scale. They have an LCD screen that shows the weight, unit price, and total price of the item being weighed.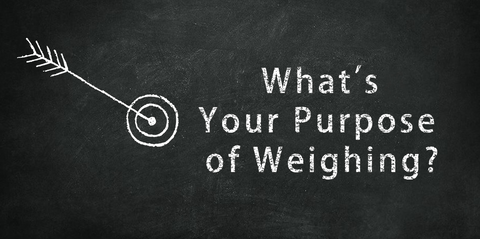 You can use retail scales for any of the following purposes:
In resale environments with weighing of food at the time of sale

During food preparation and repackaging

For personal uses, such as home cooking, baking, hand-made soap and other hobbies
If you sell at a farmer's market, a candy store, a nut store, a buffet, or a salad bar where food will be sold by weight, which means you weigh at the time of sale,  NTEP scales are a wise choice.
But if you are a diet or healthy meal prepared-food company or a coffee roaster who prepares coffee for roasting, which means you weigh for repackaging or other non-sale purposes, then you can weigh with any scale.
Keep in mind that using well-calibrated scales ensures that your business is compliant with state/regional regulations and your customers are not being ripped off. Also, you will earn the trust of customers who patronize your business, and over time, your sales will improve.
What's Legal for Trade or NTEP Approval?
NTEP scales are also known as 'legal for trade' scales. Retail stores in the US that sell products commercially based on their weight are required by law to use 'legal for trade' scales with NTEP certification of conformance.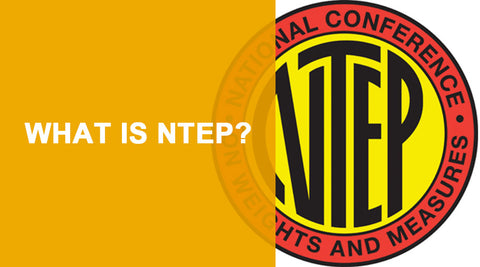 What's NTEP?
If you're new to the foodstuffs, meat, or repackaging business, one of the things you might be confronted with at first, is the use of legal for trade scales with NTEP certification of conformance. NTEP means National Type Evaluation Program (NTEP). The NTEP certification is given by the Committee of the National Conference on Weights and Measures (NCWM). The standards used in the certification process are based on the National Institute of Standards and Technology (NIST). This standard covers every aspect of using a scale, including capacity, accuracy, and the possible effects of temperature fluctuations on its operations.
If you use NTEP-approved scales, then you've satisfactorily met the 'legal for trade' requirement for your business. After purchasing a 'legal for trade' scale, you'll need to report it to the applicable county, where it will be sealed for legal use. Keep in mind that NTEP certification is non-negotiable, especially if your business depends on weight measurements to determine the prices of items.
NTEP Scale Accuracy and Annual Inspection
NTEP certifications aren't a once-and-for kind of situation. You'll have to register your device for inspection from time to time. Anything could go wrong during transacting business with customers, which is why your local authorities will always run regular inspections to ensure your business is in line. Your scales will be inspected annually by the Bureau of Weights and Measures to ensure their accuracy.
Usually, each state has its own inspection agency, and the standard for approval is typically the same across several states. When the inspection is done, they'll attach a sticker verifying the inspection and the date.
Different Classes of NTEP-Certified Scales
There are different types of retail scales, so when choosing, you want to consider the scales that are most relevant for your kind of business. Some factors to keep in mind include the size of the division, durability, and precision of the scale.
Class I scale:

Class I scales have a minimum of 50,000 divisions. Results on these scales are displayed in increments of 1 mg or better.
Class II scale:

Class II scales typically display results from 1mg to 50mg (0.05g) and have 10,000 – 100,000 divisions, or better. They are mainly used in weighing precious metals, gems or cannabis.
Class III scale

: Class III scales are built for industrial or commercial use. They are used for weighing animals, food, determining laundry charges, postage charges etc. They have a maximum of 10,000 divisions.
Class III L:

These are also used for commercial use, but they have larger capacities and are typically used for weighing vehicles, livestock, axle loads, railway tracks, vehicle on-board weighing systems, cranes, and other heavy items. Class III scales also have a maximum of 10,000 divisions.
Class IIII/Ordinary:

These are also similar to Class III but are used for weighing wheel-load and portable axle-load used for highway weight enforcement. They have a maximum of 1,200 divisions.
Among the many retail scales, what should be considered to be a good fit for your own business?
Here, we'll elaborate more on the requirements you need to consider to choose the best scale for your business.
1. The Weighing Environment
The weighing environment can either be dry or wet. If you sell seafood, ideally, you should get a waterproof retail scale to ensure accuracy. You may not need a waterproof scale if you deal with outdoor weighing that does not involve moisture.
What is a Waterproof Retail Scale?
Waterproof scales (otherwise known as washdown scales) can be used for dry and wet weighing. Waterproof scales are sealed internally for protection from moisture. Generally, waterproof items or devices have an IP rating of IP65 or above.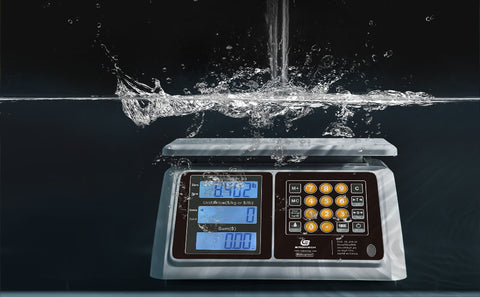 For a digital retail weighing scale, we recommend an IPX 7-rated scale. A perfect example of a waterproof scale is our Bromech IPX7 waterproof retail scale. The scale is super sealed from moisture penetration and is ideal for seafood vendors, farm markets, deli, food retail stores, butchers, etc. It has an LCD that shows the weight, unit price, the total price of weighed items at the front and back simultaneously, allowing the customer also to see the readings.
2. The Unit of Scale
The unit of the scale also determines the kind of scale you buy. Some scales are calibrated in LB only, and others have LB and Oz readings. If your business involves weighing items that are relatively high-priced, such as nuts, candy, or the likes, you want to go for a scale with precise calibrations to oz.
Most buyers/consumers expect the reading to be more precise for such measurements. Otherwise, a scale with only LB or Kg would be a good choice.
3. Display for Indoor or Outdoor Use
Also, consider the environment where the scale will be used.
Indoor: If you're using the scale indoors, it really doesn't matter if you choose one with LED or LCD display. LED display is excellent for low light areas, while it consumes quit a bit of power.
Outdoor: LCD display scales are a better option for outdoor applications. Most often, the LCD is a black display on a silver background, although other colors are also available. It can be identified under bright light or sunlight and also functions well in low temperatures, like our Bromech models ATP, BTP, JC81W and JC231. These scales have a set of dual large LCD displays with easy-to-read operators and also face the customer to ensure transparency.
4. Battery
Cold environment: You'll realize that in cold environments, the battery drains faster. What you can do here is to use (wall plug-in) AC charging in a low-temperature environment. Generally, if you're looking to use your retail scales in environments with very low temperatures (lower than 32°F/0°C), it is best to opt for scales that use both battery and AC charging.
Here are some examples of ideal batteries (Bromech scales with AC charging) for weighing in cold environments:
Examples of Bromech Scale batteries operation time in normal temperature (32°F/0°C - 104°F/40°C)
ATP or BTP scale using AC Adaptor 12V/ 500mA, Rechargeable Battery 6V 3.2Ah can work continuously for up to 60 hours, and it has a standby time of 30 days.
JC 21 using D size batteries (1..5V)*3 works for up to 60 hours and has a standby time of 30 days.
Does Your Customer Need to See the Scale Display?
Whether your customers get to see the scale display or not depends on whether you weigh it at the time of sale. In most cases, customers want to see the scale. This way, they're sure that the value they're getting is exactly what they're paying for. If you're weighing at the time of sale, your customers most likely would like to see the scale display for product weight, unit price, and total price. This means that you need to choose a dual display retail scale.
Luckily, you don't have to look too far for this. All our Bromech retail scales have a dual display, which is designed to help you assure your customers of transparency.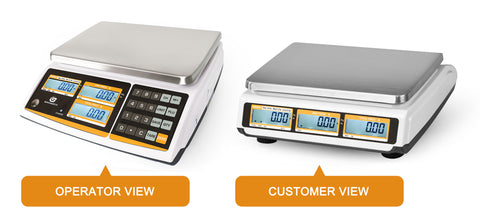 Do You Need the Change Calculation Function?
This depends on personal preferences. Scales with the change calculation function are designed to speed up the rate of transactions and save businesses time. This way, you'll be able to attend to more customers in less time. You can check out our Bromech BTP scale, which has the change calculation function.
What's PLU (price look-up)?
PLU means price look-up and is a method of prices of goods, which has been around since 1990 with over 1400 PLUs assigned. The Price look-up codes, otherwise known as PLU codes, produce codes, produce labels, PLU numbers, or simply PLUs, are a system of numbers that uniquely identify bulk farm produce sold in grocery stores and supermarkets. PLU codes are usually placed on the body of the fruits or produce.
PLUs are used extensively in retail scales to eliminate the need for visual differentiation or name memorization, especially when you're selling items with similar looks but different prices. In case you're wondering how many PLUs you need for your retail scale, a good rule of thumb is to consider the number of frequently-used products that you have. This will help you determine how you choose your scale with a PLU function.
An example is the Bromech NTEP scale 10 indirect PLUs. Also, consider whether the price of your product is stable or changes frequently? If you sell at a farmer's market and the price of your goods changes from time to time, you could get a scale with PLU function, but it may not offer that much convenience when weighing.
Maximum Capacity and Precision of the Scale
Another factor you need to consider when choosing a digital scale for your business is the maximum capacity and precision of the scales. It depends on the weight of your products. There are usually options of 30lb and 60lb to choose from. Keep in mind that a larger capacity scale usually comes with lower precision. They are mostly 30 Pounds - 0.01 Pounds/60 Pounds - 0.02. Also, note that the higher the capacity and precision of the scale, the higher the prices.
Choosing a Scale with the Right Platter
There are different platter types, depending on whether you're concerned about size, surface area, accuracy, or materials. Here are some common choice parameters:
Anti-corrosive: better quality stainless steel SUS304 and lower quality SUS401

Size of your products

The shape of your products. If your product is round or oval shape and can easily roll back and forth, you'd better choose the bowl-shaped platter
Budget
Finally, your budget is another factor you need to consider. The prices of retail digital scales vary, and it is best to go for a price that captures the ideal product for your business needs. Meanwhile, note the quality is not always synonymous with the price. It would help if you chose a scale that best fits your business. Usually, non-NTEP retail scales of good quality go for $80-$90, while NTEP-certified scales go for around $200.
Final Thoughts
Whether you own a retail business or are just an individual looking to purchase digital weighing scales, be sure to consider the nature of your business and the typical use cases for which you need the scales. This helps you better decide whether to get NTEP-certified scales, non-NTEP scales, or even both. Feel free to reach out to us to learn more about our digital retail scales and get more tips to help you choose the right retail scale for your business.